May 27, 2018 at 10am
Faith City Church
5195 S. Washington Ave. Titusville
Every year we love to congratulate and honor the accomplishments of the high school and college graduating class! During service our Pastors will take a moment to bring our graduates forward so that they may present them with a gift and some words of wisdom as they move into their new season of life.
June 3, 2018 at 11:30 am (following service)
Faith City Church
5195 S. Washington Ave. Titusville
Want to know more about Faith City Church? Ready to get involved or join the family? Then it is time to … take the next step!
We will have some fun, eat lunch together and get acquainted. Pastors Kevin and Terri will tell you about themselves and the history of FCC, plus what we believe and how our church is structured. Then it's time to learn more about you, how you are wired, what you're interested in and just where you fit at FCC.
Then once it's all over, you can decide if you are ready to join the Faith City Family, a Serve Team, or if you're still figuring it all out! No pressure! If you're not ready to take that next step, that's totally cool. We're just glad you wanted to know more about us and let us get to know more about you.
June 11 – July 30, 2018 at 7pm
Faith City Church
5195 S. Washington Ave. Titusville
Ladies, do you need a re-charge, some encouragement, relationships that build you up and a night out to invest in yourself? This is the perfect opportunity for you to get connected to the ONE source that can do it all, and more! Women today feel the pressures of life all around and at Xquisite Ladies Bible Study you will find women, from all walks of life, that are looking for the same thing… HELP!
During this Bible Study session, Pastor Terri will lead us on a journey through one of her favorite devotionals, Sparkling Gems by Rick Renner. This devotional is an enlightening Greek word study that will definitely sharpen your understanding of God's Word!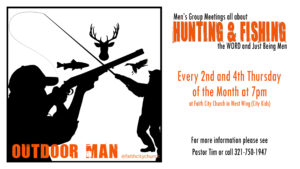 Every 2 & 4 Thursday of the Month at 7pm
Faith City Church
5195 S. Washington Ave. Titusville
If you are a guy who enjoys the great outdoors this men's group is the right fit for you! These men gather together to talk about some of their favorite subjects, hunting, fishing, their families and Jesus! They also do special events like cookouts, bow shooting, fishing seminars and more.
If hunting and fishing aren't really your thing, that's okay, you are welcome to join them anyway. Maybe you will catch the fever for the outdoors from these guys, or just enjoy the fellowship of men being men, getting encouraged and having a good laugh or two.
Special events and gatherings will be announced.
Every Thursday at 8:30 am
Steve's Family Diner
2900 W. Washington Ave. Titusville
This Men's Ministry Group was birthed out of the heart of our Pastor, Kevin Wright, and his love for learning from the older and wiser men that surround him. When they talk, he listens and takes notes!
Now this group of young and old(er) gather together around a breakfast table each Thursday to share life.