Upcoming Events and Meetings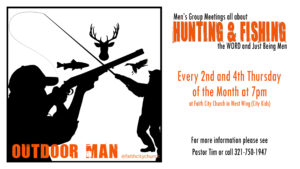 Every 2 & 4 Thursday of the Month at 7pm
Faith City Church
5195 S. Washington Ave. Titusville
If you are a guy who enjoys the great outdoors this men's group is the right fit for you! These men gather together to talk about some of their favorite subjects, hunting, fishing, their families and Jesus! They also do special events like cookouts, bow shooting, fishing seminars and more.
If hunting and fishing aren't really your thing, that's okay, you are welcome to join them anyway. Maybe you will catch the fever for the outdoors from these guys, or just enjoy the fellowship of men being men, getting encouraged and having a good laugh or two.
Special events and gatherings will be announced.
Every Thursday at 8:30 am
Steve's Family Diner
2900 W. Washington Ave. Titusville
This Men's Ministry Group was birthed out of the heart of our Pastor, Kevin Wright, and his love for learning from the older and wiser men that surround him. When they talk, he listens and takes notes!
Now this group of young and old(er) gather together around a breakfast table each Thursday to share life.
November 11th and 18th – Connect Session 1 and 2 at 11:30 am
December 16th – Faith City Christmas Celebration Service at 10am
December 17th – "Laughing All The Way" Family, Food and Fun night with Comedian Todd Bogue
December 24th – Christmas Eve Candlelight Service at 6pm