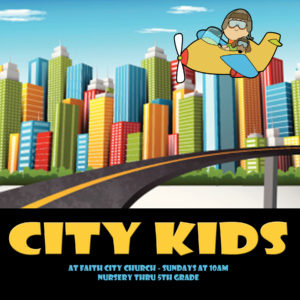 Nursery: Newborn -18 months
Toddlerville: 2 – 4 years
City Kids Church: K-5th grade
Our classes are located on the west side of the building and you must check your child in at the City Kids Welcome Station, where you will also return to check your child out of their classroom at the end of service. We care about your child's safety.
City Kids Ministry
Train up a child in the way he should go: and when he is old, he will not depart from it." Proverbs 22:6 We believe in spiritual training from the very beginning. No babysitting here! It is an honor and privilege to pray for and love on every single baby and child that comes through our doors! We teach our children that God has a perfect plan for their lives. We accomplish this through exciting and fun activities that appeal to the hearts of children at every age level as they learn God's love, His ways, and how to trust Him with their lives. We also realize the importance for families to have someone to partner with regarding the spiritual training of their children. We have an outstanding team of staff and volunteers who place a high priority in partnering with parents to help children at every stage in life.
City Kids is a place where children hear the Word of God, see it in action, and have an opportunity to practice being doers of what they learn. Jesus had great regard for the spiritual capacity of children. Jesus said in Matthew 19:14b, "…the Kingdom of Heaven belongs to those who are like these children." When taught the faith-filled Word, children become strong, focused, and powerful! We create an environment where kids open up, have fun, and receive revelation and knowledge from the Word of God and then learn how to use that knowledge to impact their world.

Men's Ministry
We believe that sometimes men need time away from the stresses of life to just "act like men"! Whether it's grubbing together, competing against one another, cracking each other up, or all the above, men will be men and you can find a place among them! Bro-code, bro-mance, bro-anything and all things. God was the originator of men helping men to live principled lives, and have fun doing it!

Women's Ministry
There are pressures and demands on women today like never before;
Through Bible studies and special
events, designed with today's woman
in mind, we believe women from all
walks of life can find their God given purpose, pursue it with strength,
and learn to laugh and enjoy life,
even in the face of adversity
.

Music Ministry
We place great emphasis on praising God passionately, worshiping Him reverently, and serving Him devotedly.
Our music is as diverse as the people who attend FCC. Although there are many differences in style, background, culture and musical preference, there is only one true God, and it is all about Him!
If you are musician or vocalist and would like to join our team please join us for our next Connect experience.
Want to know more about Faith City Church?
Ready to get involved or join the family?
Then it is time to … take the next step
First, in Session One, we will discuss "
Who We Are"
. Pastors Kevin and Terri Wright will tell you all about where we started, where we're headed, and everything in between! They will share with you who and what we are passionate about and why we do what we do and the way we do it. They will also share how we are built and run and "
What We Believe
"
. At the end of this session you will have the opportunity to join the family and then move on to the next session if you'd like to know more about our serve teams and how you can get involved.
Then, in Session Two, we are going to figure out just "How You're Wired"! It is our hope that you are ready to take the next step at Faith City Church. So, we're gonna walk you through a"Personality Profile" … that's fancy talk for "let's figure out who you are and what makes you tick!"
You may think you don't have any gifts or talents, but you are uniquely designed, and we are going to help you discover how you work, what motivates you, and what your spiritual gifts are. The cool thing is, this will help you in other areas of your life too!
After that, we will take what we learned and show you how you were uniquely created and "
Where You Fit

"
best here at Faith City! Then you can decide if you are ready to join a Serve Team! No pressure though! If you're not ready, that's totally cool. We're just glad you wanted to know more about us and let us get to know more about you.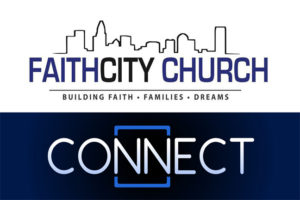 Sign up at our

Connect counter!
Part One
Get to know us
Part Two
Get to know you/
Join the Serve Team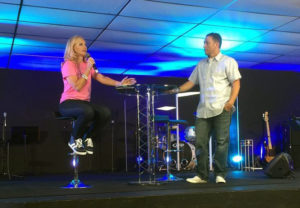 Our Connect gatherings are
However, if you would like to join