Upcoming Events and Meetings
Every 1st Wednesday of the Month 7pm
Faith City Church
5195 S. Washington Ave. Titusville
It is the passion of Pastor Terri Wright to encourage and empower women to be everything God has called them to be. However, she knows that life sometimes seems to interrupt our drive to fulfill our purpose, so she has set out to remind women in all aspects of life that we are a sisterhood in Christ. That we experience the same things, often think the same ways, cry the same tears and ask the same whys! But together we can make it! We can accomplish life's best dreams and desires with a little help
Join us each 1st Wednesday of the month as we share a lot of laughs and get serious with our desire to live life to the fullest! Oh, and maybe treat ourselves to a little sweet surprise to kick the night off right!!
Every 3rd Wednesday of the Month 7pm
Faith City Church
5195 S. Washington Ave. Titusville
Men from every walk of life seem to be facing more pressure than ever before. They are stressed out, worn out and struggling to keep it all together. It was never supposed to be this way and Pastor Tim wants to encourage men to come together and connect as a brotherhood to find that necessary support that reminds you just who God intended you to be. You are strong, you are courageous, you are a leader and you can absolutely be successful at flourishing and enjoying your life!
Join us each 3rd Wednesday of the month to spend some time acting like men with us. We will have some guy grub to start the night off right, share some good laughs, and find out what God says about who He designed us to be as men!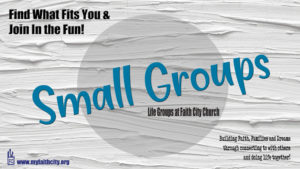 Meetings times and locations vary.
Please check with individual group for more information.
NEW SMALL GROUPS starting in October 2019
You and Me Forever Marriage Study Group led by Charles and Leesa Haney starts Thursday, October 3rd at 7pm in City Kids Room
Live Out Loud for Young Adults led by Danielle Moses starts Saturday October 19th (time and venue TBA).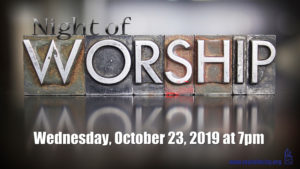 Wednesday, October 23, 2019 at 7pm
Faith City Church
5195 S. Washington Ave. Titusville
Join us as we gather together for a Night of Worship!
CITY KIDS CHURCH will also be having their own Night of Worship, so bring the entire family!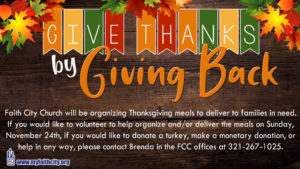 Sunday, November 24, 2019
Faith City Church
5195 S. Washington Ave. Titusville
Faith City Church will be organizing Thanksgiving meals to deliver to families in need. If you would like to volunteer to help organize and/or deliver the meals on Sunday, November 24th, if you would like to donate a turkey, make a monetary donation, or help in any way, please contact the FCC office at
321-267-1025.
If your family or a family you know needs help with a Thanksgiving meal, please sign up at the Connect Counter or call the FCC office at 321-267-1025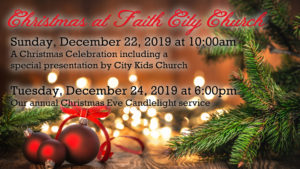 Sunday, December 22, 2019 at 10am
Tuesday, December 24, 2019 at 6pm
Faith City Church
5195 S. Washington Ave. Titusville
Make your plans to join us as we celebrate the Christmas Season!