Our Culture
Here at Faith City we know that life hits hard sometimes and we want to be there to be your spiritual cheerleader! To help people when they may feel like giving up. We know in this life we live in people are going through all different kinds of battles & situations. We believe we are here to help people learn who they are in Christ and to teach them how to stand on all of God's promises in His Word. We let them know they are gonna make it!
We understand that people come to Faith City from various backgrounds and that our church culture may be different from what some are accustom to.
A few things that are part of the Faith City culture and why:
~ Church Family
At Faith City we do life together! Here in our church family you will feel welcomed and right at home. You can be real and will not be judged…so, basically you can BE YOU! Just what we want! We are a family that loves and supports each other.
~ Passionate Worship
At Faith City building an atmosphere of worship is a central purpose of our church. We believe God has called us to worship in spirit and in truth (John 4:23-24). We kick our services off with corporate praise & worship where we stand together and praise God with music and singing. You can expect things such as clapping (Psalm 47:1), lifting of hands (Psalm 134:2), and audible praise (Psalm 47:1). By God's Spirit He enables believers to operate in what the bible calls the gifts of the Spirit, special endowments of supernatural energy working through a believer. We encourage believers to operate in these gifts that the church may be edified and encouraged.
~ Ministry
The Faith City experience is centered around seeing lives transformed through the power of God's Spirit and His Word. The Word of God is TRUE and it WORKS! The Word of God is not powerless but is followed by signs of breakthroughs, healing, and restoration! People's lives totally restored! (Mark 16:20). We allow the Holy Spirit to guide us to build and restore lives that have been broken by divorce, sickness, addiction, poverty and all of life's battles by ministering the healing power of Jesus Christ. (Luke 4:18-19).
Men
Bible Study and events will be
planned throughout the year
and will be announced.
Women
Bible Study and events are
scheduled throughout the year
and will be announced.
Kids
Nursery through 5th grade
(temporarily closed until 4.4.2021)
Thinking of checking us out?
Here is a quick rundown of what to expect.
And some questions you may have.
The culture of Faith City is to be revolutionary, not relevant! In the day we are living, people need to experience something real when it comes to a relationship with God. People are looking for a genuine, thriving and growing atmosphere that produces an excitement about life. We are not only a place where people can build their faith but a place where you can get connected, build relationships, and experience God. You do not have to dress up to come to Faith City Church so enjoy our simple service and be prepared to encounter the authentic.
What To Expect
We want everyone who comes to Faith City to feel welcomed & loved the second they pull into our parking lot.
Where do I park?
As you approach our parking lot, you will be greeted by one of our friendly Parking Team Members. This team serves to direct you, and help ensure a timely and efficient traffic flow before service.
What am I walking into?
As you walk into our church you will meet one of our Guests Specialist. They are here to welcome you, offer directions to our Kids Ministry, and would love to answer any questions you may have. We also have a Coffee & Donut Bar located in the foyer. We'd love for you to stop by and pick up your complimentary coffee and/or donut before service starts.
How long is your service?
Our worship services typically last about an hour and fifteen minutes. We recommend arriving early so you won't feel rushed and so you can enjoy a cup of coffee and donut on us!
What do I wear?
We want you to be you! So, whatever your style is…rock it! One of the things you'll notice about Faith City Church is that we are a diverse church. However, our diversities do not have to create divisions.
A fun gift for you!
We want to show all our first time guests to know how stoked we are to meet you. So we ask you to please drop by our Connect Counter, located in the foyer. There will be a Guest Specialist attending the counter before and after service to assist you with any questions, guide you through the facility and give you a little gift so say thanks for joining us!
Sunday Services start at 10 am
We look forward to seeing you!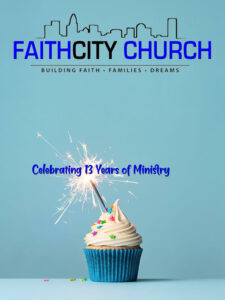 If it is your first time visiting,
our Pastors would love to meet you!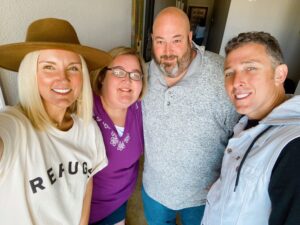 Pastors Kevin and Terri Wright
Pastor Tim and Brenda Lumpkin
Mid-Week
Sisterhood Ladies Bibles Study meets via Zoom every Tuesday night at 8pm with Pastor Terri Wright
Meeting ID: 337 890 4500
Passcode: 226992
Brotherhood Men's Bible Study meets every third Wednesday of each month at 7pm at Faith City Church
with Pastor Tim Lumpkin
Sunday Service
Our doors are open and we are
so excited to welcome family, friends
and guests each Sunday Morning!
We believe God has designed us to be a life giving church as we celebrate Him through friendly greetings, music, and a life changing message from our Pastor.
Sundays at 10am
City Kids
We have re-opened the doors for
our kids to enjoy, learn and share with others the amazing things they will
experience in City Kids Church!
Temperatures will be taken at check in.