Our Culture
Here at Faith City we know that life hits hard sometimes and we want to be there to be your spiritual cheerleader! To help people when they may feel like giving up. We know in this life we live in people are going through all different kinds of battles & situations. We believe we are here to help people learn who they are in Christ and to teach them how to stand on all of God's promises in His Word. We let them know they are gonna make it!
We understand that people come to Faith City from various backgrounds and that our church culture may be different from what some are accustom to.
A few things that are part of the Faith City culture and why:
~ Church Family
At Faith City we do life together! Here in our church family you will feel welcomed and right at home. You can be real and will not be judged…so, basically you can BE YOU! Just what we want! We are a family that loves and supports each other.
~ Passionate Worship
At Faith City building an atmosphere of worship is a central purpose of our church. We believe God has called us to worship in spirit and in truth (John 4:23-24). We kick our services off with corporate praise & worship where we stand together and praise God with music and singing. You can expect things such as clapping (Psalm 47:1), lifting of hands (Psalm 134:2), and audible praise (Psalm 47:1). By God's Spirit He enables believers to operate in what the bible calls the gifts of the Spirit, special endowments of supernatural energy working through a believer. We encourage believers to operate in these gifts that the church may be edified and encouraged.
~ Ministry
The Faith City experience is centered around seeing lives transformed through the power of God's Spirit and His Word. The Word of God is TRUE and it WORKS! The Word of God is not powerless but is followed by signs of breakthroughs, healing, and restoration! People's lives totally restored! (Mark 16:20). We allow the Holy Spirit to guide us to build and restore lives that have been broken by divorce, sickness, addiction, poverty and all of life's battles by ministering the healing power of Jesus Christ. (Luke 4:18-19).
Men
Bible Study and events will be
planned throughout the year
and will be announced.
Women
Bible Study and events are
scheduled throughout the year
and will be announced.
More information on our missions and outreach ministries coming soon!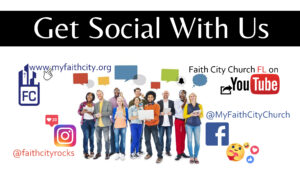 You can find us and follow us on Facebook, Instagram and YouTube for more updates, messages, and more.
Just click the icons below or search for us at the addresses listed to the left.